Humanity's problems are accelerating faster than our ability to address them. Yet, the internet should be the greatest tool ever devised for enabling large numbers of people to come together to solve or mitigate major world problems.
The missing piece? Secure software for planning, structuring, and coordinating large numbers of people to achieve a shared mission.
That's what we're building, specifically: end-to-end encrypted task management software with a bevy of unique features, optimized for large numbers of participants.
With Effective you can record your ideas in an actionable format (as tasks), assign tasks between projects (join forces with like-minded groups and leverage their expertise!), and so much more.
Screenshot: Task Hierarchy
Feature Comparison
At its core, Effective is an end-to-end encrypted task management system with integrated secure chat, file sharing, and better ways to structure the people and tasks within your project. Here's how Effective stacks up against the competition: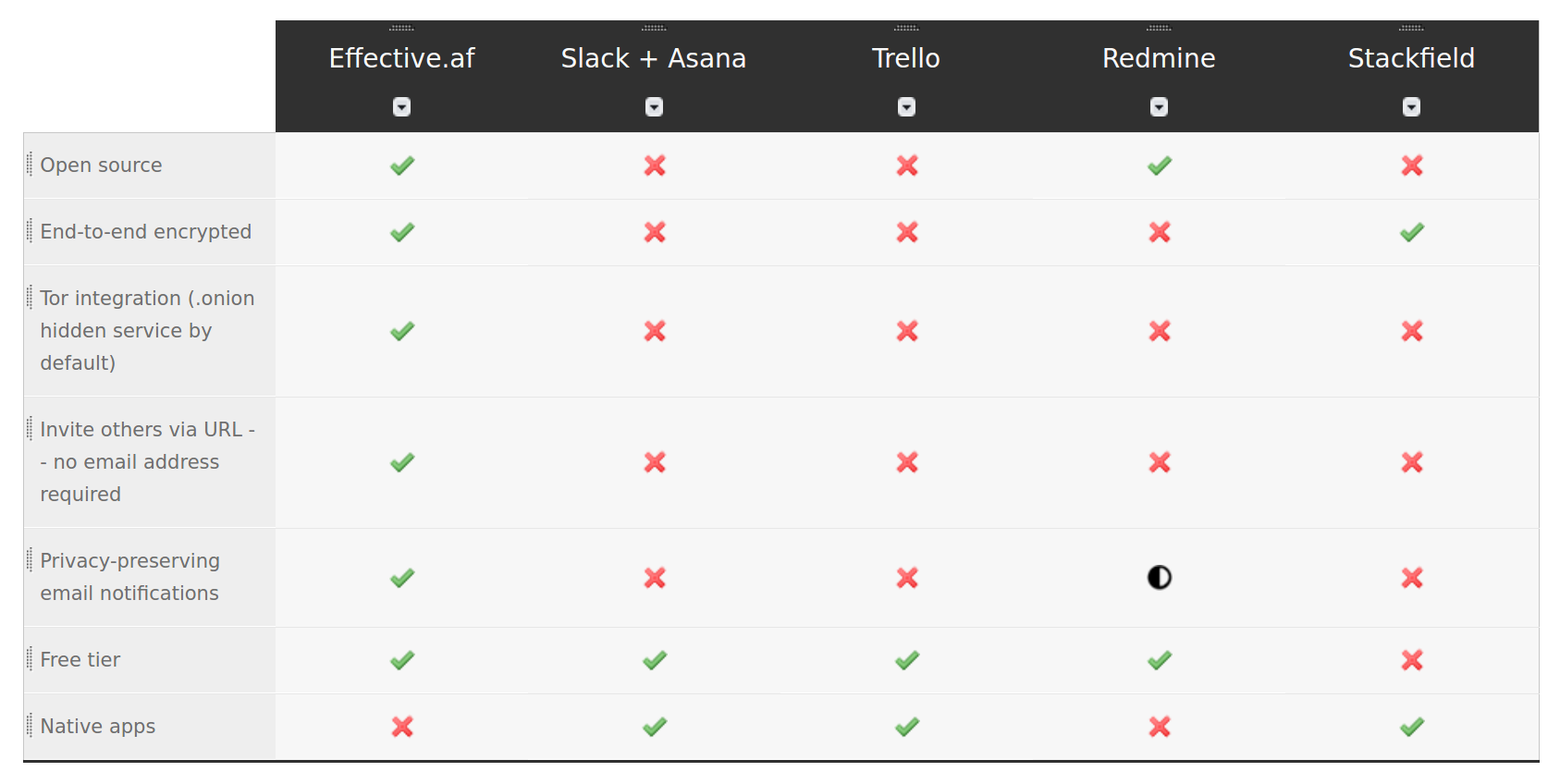 Why Effective?
We imagine a world in which anyone, anywhere can create a highly productive, volunteer-led, 100-person organization — in 1 hour.
So whether…
(1) you're excited to join a global project/movement to accomplish something epic (e.g., achieve a Basic Income in multiple countries); or
(2) you need Effective's unique security features — end-to-end encryption, default Tor integration, inviting others to your project with limited permissions, send an invite link in person via QR code, not requiring an email to sign up, and more — to protect your team's sensitive activities (e.g., investigating corruption); or
(3) you're tired of handing your private thoughts, plans, files, and chat messages over to some random C corporation (like Slack, Trello, Asana, or Basecamp);
you have a lot to gain by using Effective to achieve your goals.
3.. 2.. 1.. LAUNCH!
 Here you can track our progress toward our first major (v1.0) release!
Join Us
For email updates, join our MailChimp mailing list!
(Or, to receive updates encryptedly via Wire, send a connect request to @EffectiveAF_updates .)
…Okay, Really Join Us
To be among the first to be invited to join the Effective swarm, copy and paste these questions and your answers to them into a message and send it to EffectiveAF@protonmail.com via ProtonMail (or painfully-manually-PGP-encrypted email), or via a Wire message to @EffectiveAF:
What kinds of activism or world-changing activity are you interested in joining (or starting)?
What are some of your skills you'd like to apply to the Effective projects you join (or start)?
Contact Us
To get in touch with us:
Follow @EffectiveAF on Twitter,
Email EffectiveAF@protonmail.com,
Join our public chat room, or
Securely message @EffectiveAF on Wire
Also, consider starring our main GitHub repo: github.com/EffectiveAF/effective.